Sunday, December 21, 2008
Alone Time. Not Lonely Time.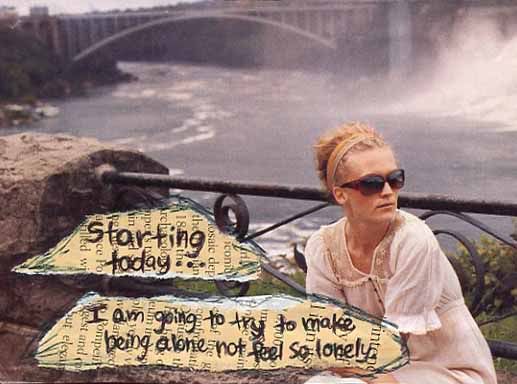 A common misconception indeed. Alone time does not necessarily equate to lonely time. It's just that we're all social beings and a person going solo is usually something that people think is a lonely life. And if you're single, there are a lot of fun things that single people can do that those with partners can't (without getting a tap on your conscience).

atomicgirl
shared her thoughts at 06:53 pm
Permalink
Sunday, December 21, 2008
Could you do my Christmas shopping for me instead?
It's the holidays again and it's quite stressful for me. Well, see, I don't go out of the house that often now compared to when I had a regular job. So with that, I don't really get to experience gradually the added number of shoppers in the malls, the worsening traffic jams, and all those discounted items. Well, who would not pass for a really good deal, right?

Anyway, since I only go out in the evening for just a couple of hours and just hang out with friends, I don't actually know the situation downtown. It's like I've been cocooned somewhere and I am just going to be emerging in a really busy part of town with all the Christmas shoppers. Hey, it's really not those shoppers' faults nor Christmas' fault. It's mine. I'm not pointing fingers at anybody. So there.

I was planning on doing the shopping Saturday but felt like the malls were too crowded. Instead, everybody here went out shopping except for me. Then today, I would've gone out but I thought of all those families going to the mall after church and I just also didn't want to deal with that. I really just hate going to crowded places. And I hate long lines when paying for just a couple of things. I am impatient like that and I guess I have long lost the trait of the long lines and the really crowded places of Manila. The life in the province is suiting me well. Really well.

Anyway, so I'm thinking. At this rate I'm going, I'd probably be done with all my Christmas shopping after Christmas. Hehe.

P.S.
The 'Christmas dinner' party with former colleagues was simple but really fun. It even extended to three days. :p Thanks Julian for accomodating us despite all the mess we leave behind after.


Image from
Raconteur

atomicgirl
shared her thoughts at 06:41 pm
Permalink
Sunday, December 07, 2008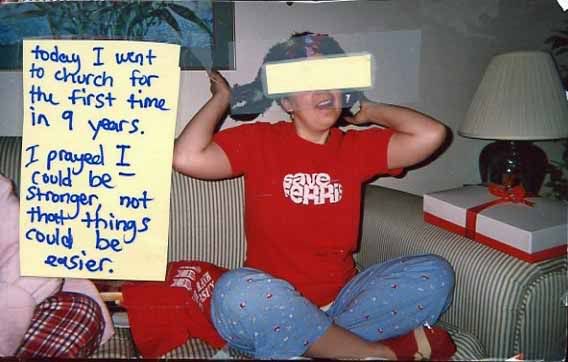 Donít ask for a light load, but rather ask for a strong back.

atomicgirl
shared her thoughts at 01:04 am
Permalink
Sunday, December 07, 2008
And maybe I will be able to start forgetting all about these. I feel really stupid though because it's a one-way affair and it's coming from my side. But I guess you will never really know. It's just me and my mind creating those situations which are not even close to reality. That's what I get for being too creative.

What if I took the time away? Would you even notice? I'm thinking you won't. And I wouldn't dare ask. Nothing would change for you. But I'm not even sure if I can do it. All I need is time. And someone to talk to. Someone who will listen. My problem is that I do not share everything about myself to just one person. Bits and pieces of me are scattered between my friends. So that sharing bit with just one person is going to be hard. Unless you ask me the right questions to get me to talk. Oh well.

But I guess you said one thing right about me. And I've felt two things: happiness and fear. Happy because someone recognized it. And fear because you may know the specifics. But I'm guessing you have no idea at all about the specifics. And you are just one lucky guesser.

So there. Just give me time, will ya?



atomicgirl
shared her thoughts at 12:51 am
Permalink
Saturday, December 06, 2008
So okay. I was going around the Internet to find something on this topic that I had in mind. I thought it was going to be fairly easy disproving that I am not your ordinary girl. Well, I guess I was wrong. I found this one article which really tells a lot about what I am doing. Argh! Just please don't let them find out. Or else I'm toast. I don't wanna be teased.

atomicgirl
shared her thoughts at 01:34 pm
Permalink