Thursday, March 06, 2008
I have been bloghopping for around an hour now. I know there's work to be done but I just could not quite focus on work right now. Maybe because I'm thinking that there's tons of things to do and I've written too much. Or maybe it's because I feel sleepy. Whatever the reason, I decided that bloghopping would be the good solution. I could get some inspiration while reading others' blogs, you know.
Anyway, here's two things I'd like to share with you. I surely like what they're saying and I think that I best share them with you as well.
Gabe Mercado
:
These rallies are our reaction to the rape of our country. You're complaining that the rape victim is crying too loudly.
Noemi Dado
:
My husband says that he doesn't like Jun Lozada but added that you don't have to like the messenger to get the message. It's so easy to turn a blind eye and live within our comfort zone. How convenient it is to just watch the telenovela of scandals, greed and corruption in the sidelines, continue with our household jobs and watch all the scenes unfold us and wish it woud just go away magically.

I will not be left out this time. My heart is filled with high hopes for our nation despite the convoluted and confounding events unfolding before me.

Push for change, BE the change. The change starts in me but it does not have to end or should not end there.
I find it enlightening to read stuff like this. Honestly.

atomicgirl
shared her thoughts at 01:55 pm
Permalink
Wednesday, March 05, 2008
Growing Old & Long-Term Goals
When I was in college, I was thinking that the only purpose of going to work was so that I could earn money to buy me the stuff I need (or want). And that was it. I brought that thinking with me even when I had my first job. I only realized that I had been spending my money on useless things when my mother asked me where I had spent my money during the whole year that I was working in this call center.
Now that I have a kid of my own, I have realized that there is a need for me to save. I need to be able to save up for our future needs and the future (as it looks to me) is approaching fast. Right now, I'm thinking that the things I have invested on are not much and I just need to invest in something that would be really valuable in the days to come. I'm thinking that I need to save up to buy myself a car and maybe a piece of land where I can build my own home.
I'm happy that my friend who has migrated to the United States has been able to buy himself a piece of property that he calls his own after looking through
real estate in Austin, Texas
and he now has property with his name on the title.
I sure am going to work on having my own piece of land. And that would be one of my long-term goals. (Gee, I really must be growing old for I did not have any long-term goals ever.)

atomicgirl
shared her thoughts at 03:34 pm
Permalink
Wednesday, March 05, 2008
While browsing through my links at Technorati, I came across a blog I was not familiar with. So I took the liberty of finding out why I was linked and I found out that I was
tagged
by
Joel
.
So here's my desktop. But mind you, this is a screenshot of my desktop at work.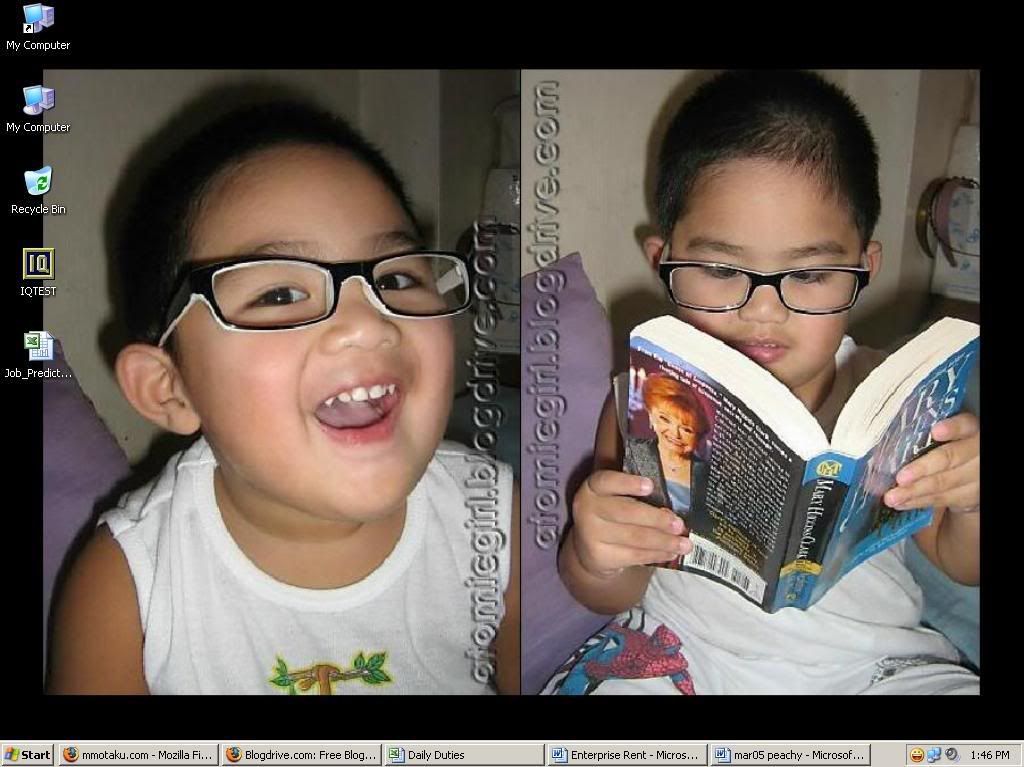 My desktop in the office

See, it's only got My Computer icons, an crazy Excel file I forgot to delete and an IQ Quiz which I still haven't answered. I say that my office desktop is so bare and that is because our office's admin wouldn't allow us to put more icons. So I'd have to make do with my desktop background.
Since this is a tag, I'd like to tag
five
six people as well. Now let me think who I'd like to tag...
Now, as per my desktop at home, that would be a different story.

atomicgirl
shared her thoughts at 12:41 pm
Permalink
Wednesday, March 05, 2008
Last week, I tried something that did before. I did a talk and I have had problems with public speaking. I may be loud and boisterous during normal conversations but when it comes to public speaking, my voice just seems to lower in volume automatically. I don't know why but it just does.
Anyway, I consider what I did last week something remarkable. With the help of a microphone, I was able to talk and share what I knew. I am not sure though if those I were talking to understood what I was saying but I hope they did. On my part, I am pretty fine with how the whole thing went.
I prepared for the whole talk and used a PowerPoint presentation. It took me a day to complete the whole deal and I was satisfied with what I completed. Maybe if I had some help from those kinds of presentations that my former employer used to train us new hires, the whole deal may have gone even better than what I had expected.
My first job was as a customer service representative in a call center and so that we would not be delivering poor customer service, we underwent two weeks of training so that we would be familiar with the whole process of helping a customer. Now that was a fun experience and the people who trained us were really experts at what they did. Well, I guess they would be able to for they were hired to do that -- teach.
I've always wanted to learn the art of teaching but I know I'm not gifted to do that well. I can teach one or two people only but I can never teach a crash course. I guess I just need to take things one at a time. And that talk last week could maybe a small step. And I'm fine with that.



atomicgirl
shared her thoughts at 07:57 am
Permalink
Tuesday, March 04, 2008
My paternal grandmother underwent a procedure last Sunday at SorDoc (that's in Sorsogon). She is 94 years old and she is as frail as frail can be.

A couple of years back, my Lola Mommy (that's what I call her) also had some lenses inserted in her eyes because she suffered from astigmatism. Now, she had some tubes inserted because the tubes that delivered urine out of the body were blocked.

Because of her age, the procedure was risky. Right now, she is still recovering although my sister who's a nurse says that she's afraid that my Lola Mommy's condition may already be getting worse but I'm pretty sure that Lola Mommy's a fighter.



atomicgirl
shared her thoughts at 09:42 am
Permalink