Wednesday, February 27, 2008
I've been going through some of my files here in the office and I found these.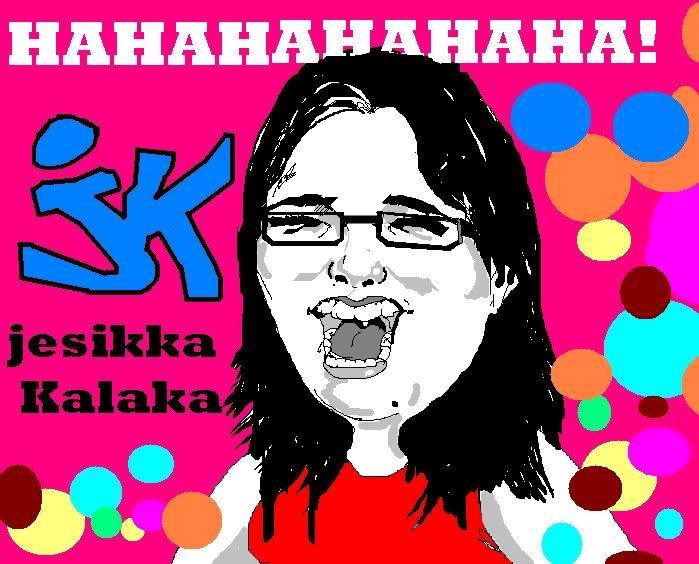 That's Jesika Kalaka. Haha.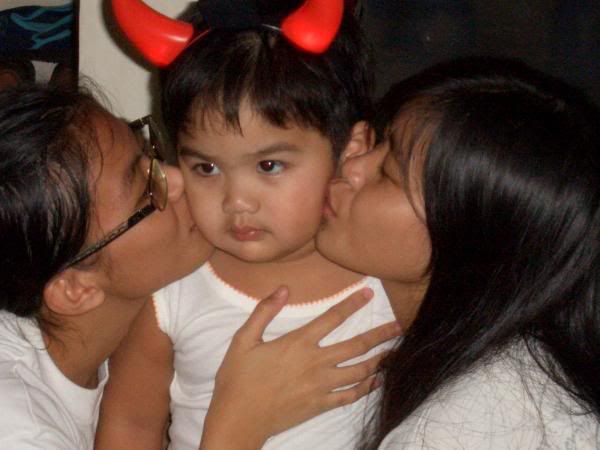 My son was so afraid of the sound that the fireworks made that was why he was so behaved when this photo was taken. Those beside him are my sisters.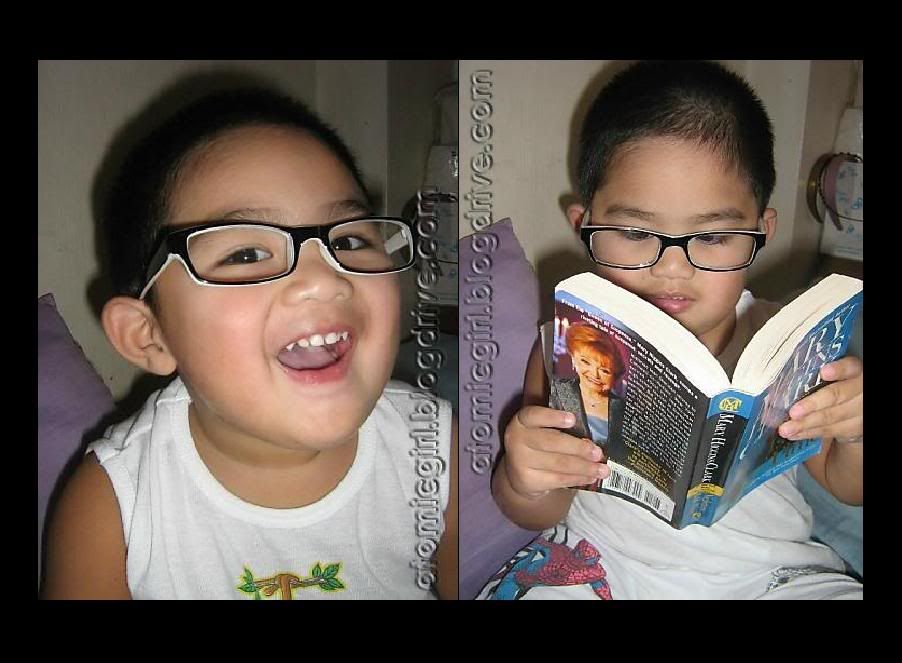 I found a damaged eyeglass frame at home and made my son wear it. Hehe. The little nerd.
It's always fun looking at photos.

atomicgirl
shared her thoughts at 03:52 pm
Permalink
Wednesday, February 27, 2008
Come Saturday, I would be officially part of the Content Development team. I would no longer exist as a web marketing analyst. Well, I would not be the only one. I would be joined by two from my team. One of them would be moving on as a TL. Yey! The other two decided not to join us though, but that's okay.

I honestly can feel the excitement rushing over me at the thought of getting into the unknown (well, not so unknown for I have been from that team for four days upon joining the company). It would yet be another adventure. It would be another set of tasks to deal with. It would mean new people to work with and new members to handle. It would yet be another challenge and you know just how I find it pleasing to be challenged or to be involved in something new.

Right now, I'm thinking of how I would handle a short "talk" I would be giving on blogging. I know it's quite simple but I sometimes think that the simplest things are the hardest things to talk about. Really. It was never my forte to expound on something that simple. I mean, come on. I don't think simple should be complicated. (See, I'm getting complicated here trying to defend the simplicity of that statement.)

Anyway, I lost my train of thought here. Somebody was trying to talk to me and yes I'm in the office. But see, I've finished with my tasks. There. Later maybe.



atomicgirl
shared her thoughts at 03:34 pm
Permalink
Tuesday, February 26, 2008
A free trip to the United Kingdom. That's what my friend has. And she is so excited about it. She received that trip as a gift from her father and right now, she is asking me if I can help her find real good places to stay there.
Taking a look at her itinerary, I found a good site online where to find good
hotels
.
Manchester accomodation
,
Glasgow accomodation
,
Edinburgh accomodation
, and
Belfast accomodation
- finding hotels in these areas would prove to be a great help to her since these places are included in her itinerary. I also told her about
Central London hotels
and she's taking a good look at them right now.
Now, all I'm waiting for is for her to book her accomodation, prepare for her trip, then take her trip and buy me some
pasalubong
when she's already in the UK. That she promised me as thanks for helping her find hotels in the UK.

atomicgirl
shared her thoughts at 06:53 am
Permalink
Tuesday, February 26, 2008
It started last Saturday. My throat was feeling sore and I was not in the mood to go out. But my friends requested that I accompany them to this dinner later that night. So okay. I went out with them. And while drinking that cold bottle of beer, my sore throat was gone. And maybe it was that short span of rain made me go sick.

When I woke up Sunday, I was feeling all hot. I had a runny nose but I was not running a fever yet. Later in the afternoon, that was when my fever started. I had a hard time sleeping because I was congested.

Come Monday, I no longer had a sore throat or runny nose. The problem was, I still had the fever and I was coughing bad. Later on, it developed into something like mild asthma. I can say that it was mild asthma for there was no wheezing sound. But I was having a hard time breathing because of the colds and the cough.

Today, I didn't go to work because I still don't feel good. I do feel though that I am on my way to recovery but I better be on the safe side. Rest would be my best ally today.


atomicgirl
shared her thoughts at 06:42 am
Permalink
Friday, February 22, 2008
Eccitato dell'Italia! (Excited About Italy)
I love to travel. If there no hindrances like money, time, and obligations, I would have hopped on quite a number of planes and had been to various countries already. But so far, the only places I've gone to were here in the Philippines. I have not even gone to Mindanao even.
When thinking of going on a trip to a new place, what I think of is not the shopping that I can do once I'm there or just how many blouses I can purchase for me. If shopping would be the thing that I would be prioritizing then there are tons of malls here where I can purchase the things I need. What I want is that I get to learn something new and experience something new -- maybe be exposed to a new culture, new breathtaking sights, and maybe even get to know a new language.
Italy has been included in my list of places I would like to visit. After all, maybe the lure of Italy has been developed in me when I had been watching tons of cooking shows and there were these two shows with these two Italian chefs and they were pretty funny, talked a lot about Italy, and the food that they cooked looked scrumptious.
Anyhow, when I'm interested I really do research and I've found out that aside from the tons of wonderful sights and a display of culture that Italy has, the country also has adapted to the number of tourists coming to their country. Hotels have sprouted and you would have quite a choice of hotels to choose from. The Florence Hotel, Venice Hotel, Napoli Hotel, and the Verona Hotel are just a few of the hotels which caught my attention while going through the country's list of hotels. Maybe it has something to do with the fact that I am planning on visiting these places and they come with really good reviews.
That's how interested I am about Italy. I've even gone and planned where to go and what to do and where to stay. Now the only thing I have to think about would be where to get the cash.



atomicgirl
shared her thoughts at 06:39 am
Permalink