Sunday, January 11, 2009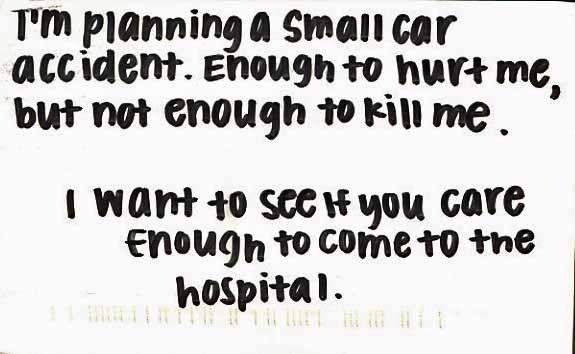 But what if that person does not visit you? Would it be worth all the pain

?
Image from
PostSecret

atomicgirl
shared her thoughts at 04:57 pm
Permalink
Sunday, January 11, 2009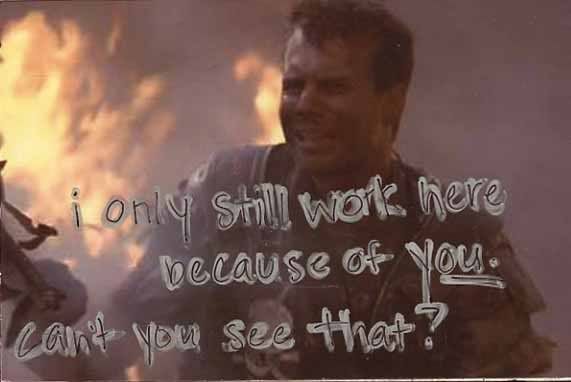 And as a former colleague told us during orientation, find someone who will serve as your inspiration in whatever job you have. That'll get you through the hard days.
Image from
Post Secret

atomicgirl
shared her thoughts at 04:53 pm
Permalink
Saturday, January 10, 2009
Take the first move. I'll follow. And you'll know me.
I could tell everything. I could choose to. I've been tempted to do so. But I won't Because there is such a lot to lose. I'll lose my ability to hold my head up high. I could not hide my disappointment because the person/people I've told will know. And because I'll be the only one to share, it seems like it's something that I could not deal with. As long as nothing's official, there's nothing you can get from me. I want to deal with personal things like this myself because it's nothing to be proud of. It's really been a long while and I don't know why it's still here when nothing's happening. I may have put in some meaning into the most simple things that were nothing more than simple gestures that really mean nothing at all. But if everything was mutual, that's when a person will really get to see me. That's why I'm waiting for this person to do just what it takes for me to melt because I miss sharing stuff that I can't tell even the most trusted people I know.
It's just that he's not come to his senses and found his way to me. I think so. Or else he'll be here and I could tell him everything. Or maybe he's still lost and still does not know where to go. Or maybe he's not coming at all. Maybe. I dunno.
That's why I'm hoping all of these will stop so I can get back to just being me without all the complications. Like right now, I'm thinking tons of stuff just because of the conversation I've had with some of the best people in my life right now. And so I'm thinking those two really great dreams I've had the past two days isn't going to be continued tonight. I think so. I just think so. Don't get me wrong. The conversation was great because I got to learn more about myself from their point of view. It's just that I'm still having trouble showing this certain part.
Oh well. I just can't have everything. And yeah, I'm fine with what I have and who I am right now. There's just this piece that I can't really unlock. And that's where I need help with.
If only I could really tell you. If only I could. But there's really a lot that's going to change. And I wouldn't want that. If only he would start things, I'll follow. But I'm thinking that isn't going to happen. Better not keep my hopes up. Better that way.
Image from
ACH

atomicgirl
shared her thoughts at 11:29 pm
Permalink
Tuesday, December 30, 2008
Two weeks ago, I said it's over. Two weeks ago, I felt happy because I knew I wasn't pining for anything anymore. I said it's done and there's nothing more I can do. As a friend told me, I was pretty much "in love". Maybe. It's about all those kilig things and all those stuff that bring back all those butterflies in your stomach. Believe me. I've felt like I'm in high school all over again. Sheesh. That was two weeks ago.
And so I thought it was over and I was glad with that because it is a one-way street. I could not possibly expect anything from you. I'm sure you can read what I'm trying to convey but please. With all the mixed signals I'm sending, you just may get crazy. But then now, I start missing you. Just out of the blue. I start thinking of you and I now ask myself if this is now "love". You know. When there's not much of the kilig things happening. But you're still there. Whatever. But still. I just hate it. I wouldn't like to end the year and start a new one like this. Really. It's been over a year and I'm still like this. Sheesh.
But yeah. Maybe this feeling's just for today. Tomorrow, it's gonna be back to what I realized two weeks ago. That I'm done. For this has just gotta stop.
P.S. I'm NOT in a relationship whatsoever right now. So don't start thinking that I do.
Image from
Active Rain

atomicgirl
shared her thoughts at 12:15 am
Permalink
Tuesday, December 23, 2008
It's Christmas time once again and here's your Christmas greeting from
Peachy
and Sky Galias...

atomicgirl
shared her thoughts at 02:20 am
Permalink